The Japan-US Science Forum was held on November 12 at Harvard University in Cambridge MA. The event objective was "Changing the World through Japan's Scientific Endeavors." After experiencing unprecedented high economic growth in the post-war period and the "bubble economy" in the late 1980s, Japan today faces a host of challenges that are likely to test other developed countries in the near future. By developing solutions for aging societies, population decline, and energy issues, Japan is well positioned to offer the world innovative new ways to address shared challenges.
Themed "Japan's Rapidly Aging Society," the forum started with opening remarks by Dr. Mitsuaki Nozaki, Director, JSPS Washington Office and Mr. Rokuichiro Michii, Consul-General, Consulate General of Japan in Boston. The lectures were given by Japanese researchers who are active in the US. Throughout the event, the speakers gave excellent talks and received questions during lively Q&A time.
Following the forum, a poster session themed "rapidly aging society" was held and JSPS Washington Director Award" and "Consul General of Japan Award" were given to remarkable presentations.
JSPS Washington Office Director Awardee:
Dr. Keisuke Konno
(JSPS Overseas Research Fellow, Ohio State Univ.)
Consul General of Japan Awardee:
Dr. Motoshi Hayano
(Research Fellow, Harvard Medical School)
Several Japanese universities and institutions also participated as poster exhibiters to introduce their research activities.
Approx. 140 participants, including researchers from universities, research institutes in the U.S. and interested members of the public attended the event.
Through activities like this, the JSPS WO will continue to provide opportunities to form researcher's network and support building research collaboration between Japan and the US.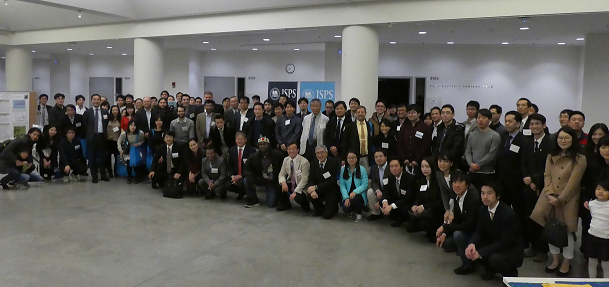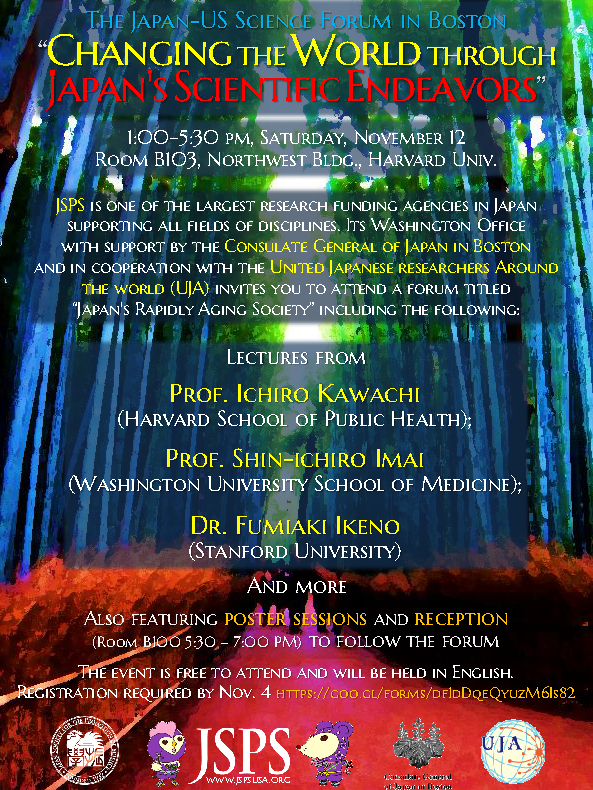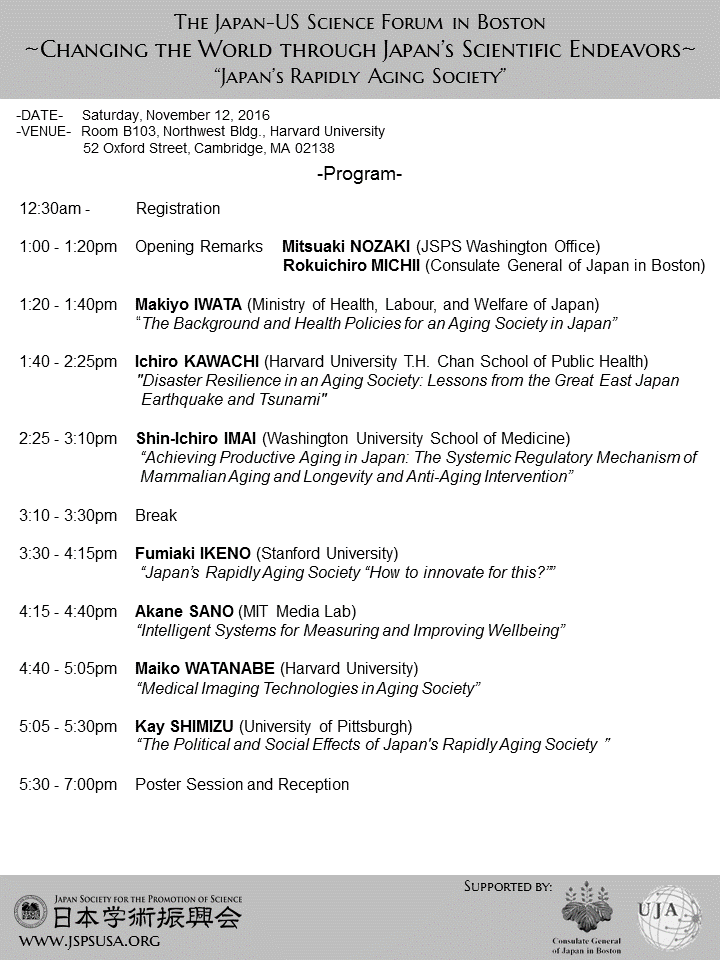 POSTER SESSION
<Reference> Call for Poster Presentations
Contact
JSPS Washington Office
2001 L Street NW, Suite 1050, Washington, DC 20036
Email: symposium@jspsusa.org
TEL: 202-659-8190 FAX: 202-659-8199