JSPS Science Café was held in honor of 2 Japanese Nobel Prize Laureates on December 3rd at the JSPS Washington Office.
Dr. Takaaki Kajita (Professor, Director, Institute for Cosmic Ray Research, The University of Tokyo)and Dr. Arthur B. McDonald (Professor Emeritus, Queen's University, Kingston) were awarded the Nobel Prize in Physics for discovering that the enigmatic subatomic particles known as "Neutrinos" have mass.
Dr. Mitsuaki Nozaki (Director, JSPS Washington Office), described the achievement of Dr. Kajita under the title of "What is the implication of neutrino mass and oscillation?" (PDF file (978KB))
Dr. Nozaki commented that Dr. Raymond Davis Jr.'s Never-give-up spirit and Dr. Masatoshi Koshiba's new approach to problems contributed to his work on neutrino.
-Splendid Gifts from Microorganisms- is a title of a book written by Dr. Satoshi Omura (Distinguished Emeritus Professor, Kitasato University),Nobel Prize in Physiology or Medicine laureate in 2015.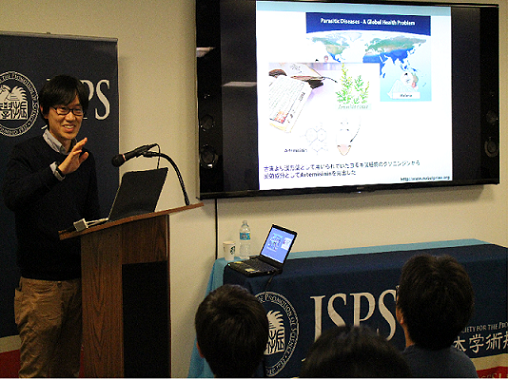 Dr. Masanori Funabashi (Postdoctral Scholar, Department of Bioengineering and Therapeutic Science, University of California, San Francisco) used the title from the book for his presentation on Dr. Omura's achievements, "Splendid Gifts from Microorganism" (PDF file (1.733MB)). Dr. Funabashi explained fully about Dr. Omura's discoveries concerning a novel therapy against infections caused by roundworm parasites. In concluding his talk, Dr. Funabashi mentioned that "What splendid gifts microorganism are!"
After each presentation, their talks spurred lively Q&A discussions with an audience of 40 participants.