We are pleased to inform you that the JSPS Washington Office will hold two options for on-site events according to your research career stage.
Events 1 and 2 are at the Space Science of Technology, 3F Rice university.Pre-registration is strongly recommended for both events.
Event 1: "Research Opportunities in Japan"
Eligible applicants: Graduate Students and Postdoctoral Researchers
Time: 12:00 pm – 1:00 pm, lunch will be serve
Venue: Venue :Space Science and Technology 300
Event 2: "Research Opportunities Between the United States and Japan"
Eligible applicants: Faculty members
Time: 4:00 pm – 5:00 pm
 Venue: Space Science and Technology 301A
The aim of the event is to introduce JSPS and its fellowship programs to doctoral and postdoctoral researchers at Rice University. In addition, for faculty members, we will introduce some programs to promote academic collaboration between the United States and Japan. In these programs, you would be a host researcher for young Japanese researchers. In Event 1, there is a presentation from former JSPS fellow Dr. Kevin F. Kelly.
For further information, please find the attached two flyers. Registration is free. Kindly note that you are strongly encouraged to register by February 13 because walk-ins without registrations are only available on a first-come-first-serve basis as space is limited. We warmly welcome your participation.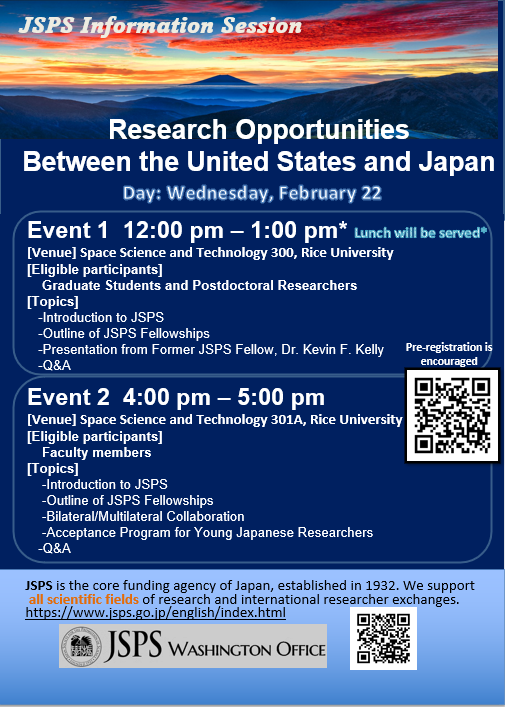 -Co-Sponsors: JSPS Washington Office, Smalley-Curl Institute at the RICE University
[Contact]
JSPS Washington Office
Email: was-info@overseas.jsps.go.jp
Web: http://jspsusa.org/wp/