"Resilience from the Pandemic" [Registration Closed]
-Pre-Register-Both on-site and online participants are required to pre-register using the following application form by the deadline.
【On-site participants】 CLICK HERE TO APPLY for General Registration
*The deadline for this registration is Monday, October 24, 5:00 PM EDT.
* The first 65 on-site participants will be accepted on a first-come, first-served basis.
* When capacity is reached, registration will be closed.
*Registrations are recommended by October 24. However, registrations will still be accepted after that date, and walk-ins on the day of the forum will also be accepted unless the number of registrants reaches the limit.
*We do not cover travel expenses including accommodation fee.
We strongly encourage you to use public transportation to get to the venue. Those coming by car on the day of the Boston Forum must pre-register in the system and pay the parking fee. Please go to this link for the detailed application procedures: Harvard University | Harvard Online Parking Permit System.
【Online participants】CLICK HERE TO APPLY for General Registration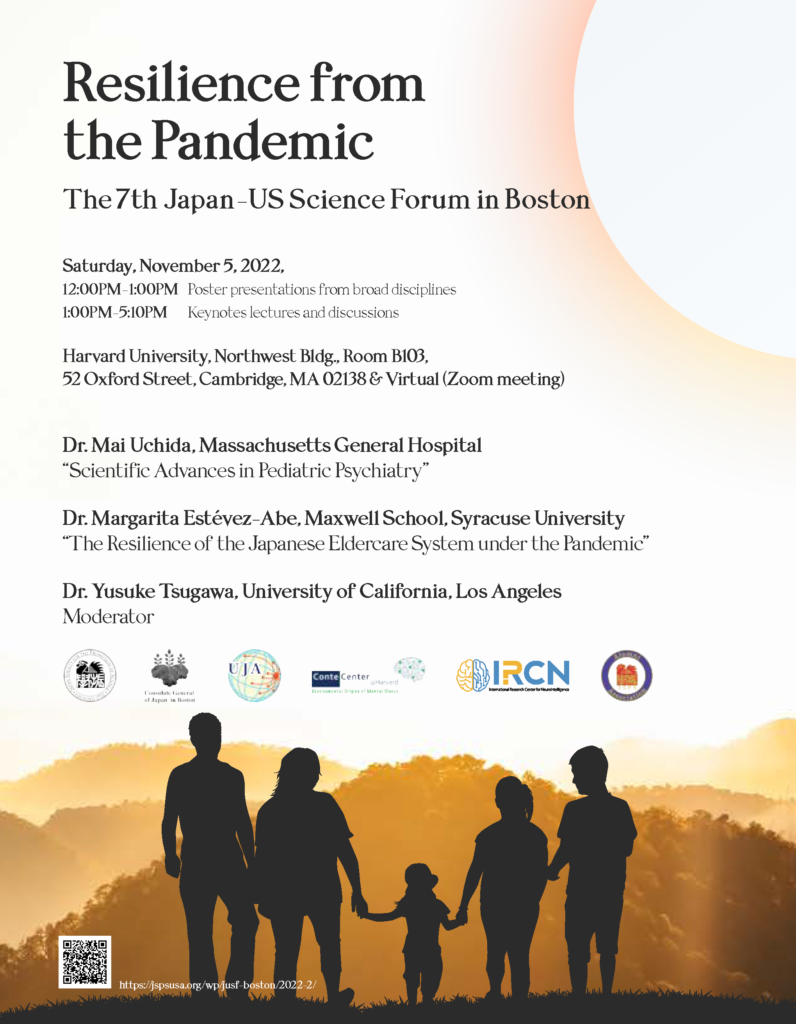 -Important Notes-All on-site participants in this forum must follow the guidance set by Harvard University to reduce the risk and spread of COVID-19. In addition, masks may be required depending on the situation at the time.
Masks are not required, however they are strongly encouraged.
For your reference, the call for Poster Presentation with Flash Talk Participants [Closed]
Tentative Agenda
EDT
Agenda
11:00am

Poster registration

12:00pm

Registration (Refreshment will be served) + Poster session

1:00pm
Opening remarks
1:20pm
Overview 


Dr. Yusuke Tsugawa (University of California, Los Angeles)

1:30pm
Lecture1
Dr. Mai Uchida (Massachusetts General Hospital, Harvard Medical School)
Lecture title: Scientific Advances in Pediatric Psychiatry: The Optimism, Hardship and Reality of the Child Mental Health Crisis in the Pandemic
2:00pm
Break
2:10pm
Lecture2
Dr. Margarita Estévez-Abe (Maxwell School, Syracuse University)
Lecture title: The Resilience of the Japanese Eldercare System under the Pandemic
2:30pm
Panel Discussion and Q&A
Dr. Tsugawa, Dr. Uchida, Dr. Estévez-Abe, and Audience (Onsite and Online)
3:00pm
Coffee Break
3:10pm
Flash Talks
4:30pm
Networking&Awards
5:00pm
Closing
* There has been a change in speakers below. (Lecture 2 and Panel Discussion)
Dr. Matthew McKelway (Columbia University) –> Dr. Margarita Estévez-Abe