"Resilience from the Pandemic" [Nov. 5, 2022]
-DATE- Saturday, November 5, 2022, 1:00 pm – 5:10 pm (EDT)
-VENUE- Harvard University in Cambridge, Massachusetts & Virtual (Zoom meeting)
On-site: Room B103, Northwest bldg., Harvard University, 52 Oxford Street, Cambridge, MA 02138
The 7th Japan-US Science Forum in Boston was successfully held as a hybrid eventon Saturday, November 5, 2022. This forum was inaugurated in 2016, aiming to create an interdisciplinary meeting opportunity that stimulates collaborations between researchers to solve global problems.
This year, about 80 participants gathered online and onsite from Boston, other areas of the US, many countries, including Europe, China, Egypt, Canada, and Japan.
Following the opening remarks by Dr. Kohji HIRATA (Director of JSPS Washington Office), Mr. Kotaro SUZUKI, Consul General of Japan in Boston, Dr. Jun NISHIDA, Director UJAW, Dr. Mark C. ELLIOTT, Vice Provost of Harvard University, and Takao HENSCH, Center for Brain Science Harvard University and WPI-IRCN, gave congratulatory remarks.

In the lecture session with the topic of "Resilience from the Pandemic," Dr. Yusuke TSUGAWA, University of California, Los Angeles, offered an overview of this forum as a moderator. Then, Dr. Mai Uchida, Massachusetts General Hospital, lectured titled "Scientific Advances in Pediatric Psychiatry."
The following lecture, titled "The Resilience of the Japanese Eldercare System under the Pandemic" was made by Dr. Margarita Estévez-Abe, Maxwell School, Syracuse University from NY(online).
The two lecturers and the moderator then participated in a panel discussion about this year's theme along with questions from the on-site audience. They also enjoyed live questions posted by virtual participants via the "Slido" system after the discussions.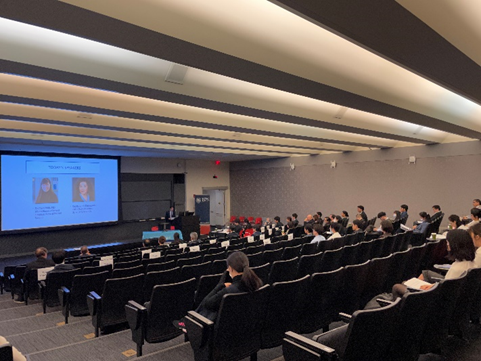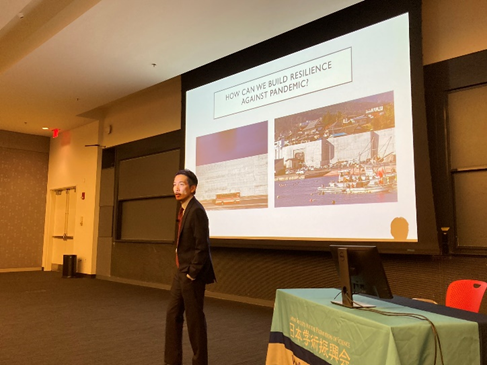 This year's forum featured Poster presentations and Flash Talks of all disciplines. Poster presentations were conducted onsite only, with presenters explaining their research findings to participants in front of their own posters. These 14 poster presenters also gave a three-minute flash talk to the public using one slide. The event organizers and participants judged them as a contest, bestowing special awards upon three of the presenters in the following categories:
Consulate General of Japan Award :
Yuki Kitahara (Faculté de Médecine, Université de Montréal ) for his presentation titled, "How do bacteria coordinate cell-size growth and biomass growth? "
JSPS Award:
Sayaka Kochiyama (School of Engineering, Brown University), for her presentation titled, "The role of interfaces in stiff biomaterials: toughness vs strength"
UJA Award:
Shiva Razavi (Department of Biological Engineering & Institute for Medical Engineering & Science, Massachusetts Institute of Technology and Wyss Institute at Harvard) for her presentation titled, "Screening RNA Sequences for Drug Targets in Mammalian Cells"
—–Award and Evaluation—–
The Japan-US Science Forum in Boston Poster Award, hereafter "award," recognized three remarkable presenters in the following format and criteria.
Poster Awards
JSPS Washington Office Award
The judges consisting of UJA members reviewed all submissions based on the criterion of Interdisciplinary impact.
Consulate General of Japan Award
The judges consisting of UJA members reviewed all submissions based on the Scientific novelty and excellence.
Flash talk Awards
UJA Award
This award was determined by voting for the best presentation (flash talk) by all participants on the day. Both slide and flash talk were considered for this award.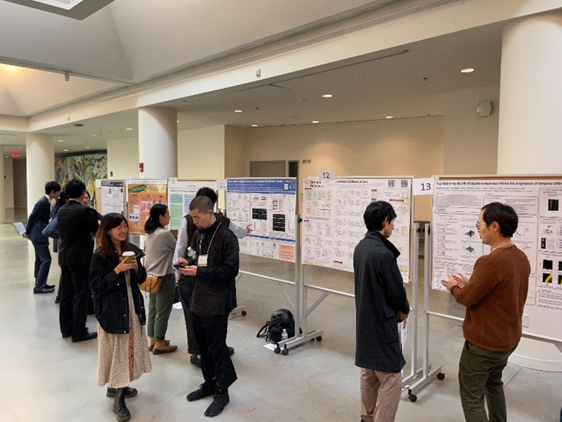 In the last session, onsite participants had time for networking, and they introduced each other and had conversations freely.
This forum was organized by JSPS Washington Office, Consulate-General of Japan in Boston, and UJA, supported by Conte Center at Harvard, WPI-IRCN, US, and Canada JSPS Alumni Association, and sponsored by Amnet, Fujifilm, Nissan Chemical, SAFUSAKE, Yodosha, and Z-KAI.