19th "Science in Japan" Forum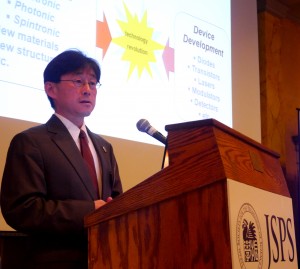 The 19th "Science in Japan" Forum was held on October 3rd, 2014 at the Cosmos Club in Washington, DC. Themed "Frontiers of Research on Low-Dimensional Systems," it featured distinguished speakers from Japan and the US. The forum was opened by Osamu Shimomura, Director, JSPS Washington Office; followed by Keiko Nishikawa, Inspector General, JSPS Headquarters; then by, Patricia Dehmer, Acting-Director, Office of Science, US Department of Energy; and lastly, Hiroyasu Izumi, Deputy Chief of Mission, Embassy of Japan in the US. Prof. Junichiro Kono, Rice University, the coordinator for the forum, opened the speakers sessions by giving an overview of the topics and the aim of the forum. Throughout the day, the speakers gave excellent talks and were received by lively Q&A time. The forum was closed by Prof. Mildred Dresselhaus who made valuable observations and concluded the forum.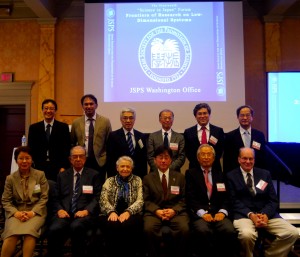 More than 120 participants, including researchers from universities, research institutes, and government agencies and members of the press attended the event. The forum was co-sponsored by the American Association for the Advancement of Science (AAAS), the American Chemical Society (ACS), the American Physical Society (APS), the US Department of Energy, the Japan Science & Technology Agency (JST), the National Science Foundation (NSF), the International Society for Optics and Photonics, and the Optical Society. The strong show of support from these US organizations shows the good relations between Japan and the US which have been cultivated by the JSPS Washington Office.
The forum was followed by a reception, the researchers from the two countries strengthened their friendly and collegial ties, drawing the curtain on yet another very fruitful forum.
Science in Japan Forum
As one of our activities, we have been organizing the "Science in Japan" Forums in Washington DC once every year from 1996. The Purpose of the forum is to introduce leadingedge research trends being advanced recently in Japan. It also serves to promote mutual communication among scientists in Japan, the United States and other countries.
 The 19th "SCIENCE IN JAPAN" FORUM
Frontiers of Research on Low-Dimensional Systems
– DATE –
October 3, 2014
– VENUE –
Cosmos Club, 2121 Massachusetts Ave. NW, Washington, DC 20008
Ever since the birth of quantum dots, wires, and nanocrystals a few decades ago, the field of low-dimensional systems has continuously grown to become one of the most active areas of modern applied science research. Quantum-confined electrons offer not only a highly controlled and intriguing environment in which to answer fundamental scientific questions but also a plethora of ideas and opportunities for novel device applications. This symposium will bring together some of the leading researchers in this field . both from Japan and the U.S. to showcase the latest electronic, photonic, and spintronic discoveries and breakthroughs in low-dimensional systems, including carbon nanotubes, quantum dots, graphene, and atomically thin materials.
Agenda
Opening / Welcome Addresses (9:00am – 9:30am)
Session 0 (9:30am – 9:45am): Aim of the Forum: Junichiro Kono, Rice University
Session 1 (9:45am – 10:45am): Engineered Low-Dimensional Systems
– Material Science of Atomic Layers: Pulickel M. Ajayan, Rice University
– 2D Electron Systems Produced by Ionic Gating: Yoshihiro Iwasa, The University of Tokyo
(Break)
Session 2 (11:15am – 12:15pm): Novel Two-Dimensional Materials
– Toward Quantum Electronics Based on Two-Dimensional Materials and Beyond: Philip Kim, Harvard University
– Single Layers of Graphene and Other 2-D Materials for Signal Enhancement: Mildred Dresselhaus, Massachusetts Institute of Technology
(Lunch)
Session 3 (1:30pm – 2:30pm): Two- and One-Dimensional Systems
– Size, Dimensionality, and Strong Electron Correlation in Nanoscience: Louis Brus, Columbia University
– Terahertz Dynamics in Graphene and Carbon Nanotubes: Junichiro Kono, Rice University
(Break)
Session 4 (2:45pm – 3:45pm): One- and Zero-Dimensional Systems
– Carbon Nanotube and Beyond : Sumio Iijima, Meijo University
– Quantum Dots: From Science To Practical Implementation: Yasuhiko Arakawa, The University of Tokyo
(Break)
Session 5 (4:30pm – 5:30pm): Spintronics and Magnetism
– Physics and Application of Spin Current in Spintronics: Sadamichi Maekawa, Japan Atomic Energy Agency
– Perpendicular Magnetic Recording to New Civilization – from Science to Technology: Shunichi Iwasaki, Tohoku Institute of Technology
Reception (6:00pm – )
Organized by:
Japan Society for the Promotion of Science Washington Office (JSPS-WO)
Co-Sponsered by:




---