The 5th Japan-US Science Forum in Boston (2020) -Special Program-
-DATE- Saturday, November 14, 2020, 5:00pm – 9:00pm (EST) / Sunday, November 15, 2020, 7:00am – 11:00am (JST)
-VENUE- Virtual (The link will be sent to the registrants prior to the forum.)
After the unprecedented high economic growth in the post-war period and the "bubble economy" in the late 1980s, Japan now faces difficult challenges, such as an ageing and declining population and an energy crisis, that other countries have never experienced. Japan is well positioned to offer the world innovative solutions to address those challenges.
"The Japan-US Science Forum in Boston" was inaugurated in 2016, aiming to create an interdisciplinary meeting opportunity that stimulates collaborations between researchers to solve world-wide problems. Previous forums were held to discuss how science could help an ageing society (2016), a safe food supply (2017), science of sleep (2018) and nanoscience (2019). Due to COVID-19, this year's forum will be held virtually as a special program.
-Program- 
Lecture Session "AI for Clinical Translational Research"
-Introduction by Dr. Takao Hensch (Professor, Harvard University / Director, WPI-IRCN),
-Lecture 1 "Neuroimaging investigations into adolescent brain development and predicting psychosis" by Dr. Kiyoto Kasai (Professor, The University of Tokyo, WPI-IRCN),
-Lecture 2 "How brains can learn from a small sample! And its application to computational psychiatry" by Dr. Mitsuo Kawato (Director of ATR Brain Information Communication Research Laboratory Group, ATR),
-Question and Discussion
Flash Talk Session
<Flash Talk Audience Award>
The winners are:
-Dr. Hayami Koga, Harvard T.H Chan School of Public Health,
-Dr. Man-Yin Tsang, University of Toronto/Kobe University,
-Dr. Mayuka Nakajima, Harvard University SEAS
(in order of presentation)
Networking Session on SpatialChat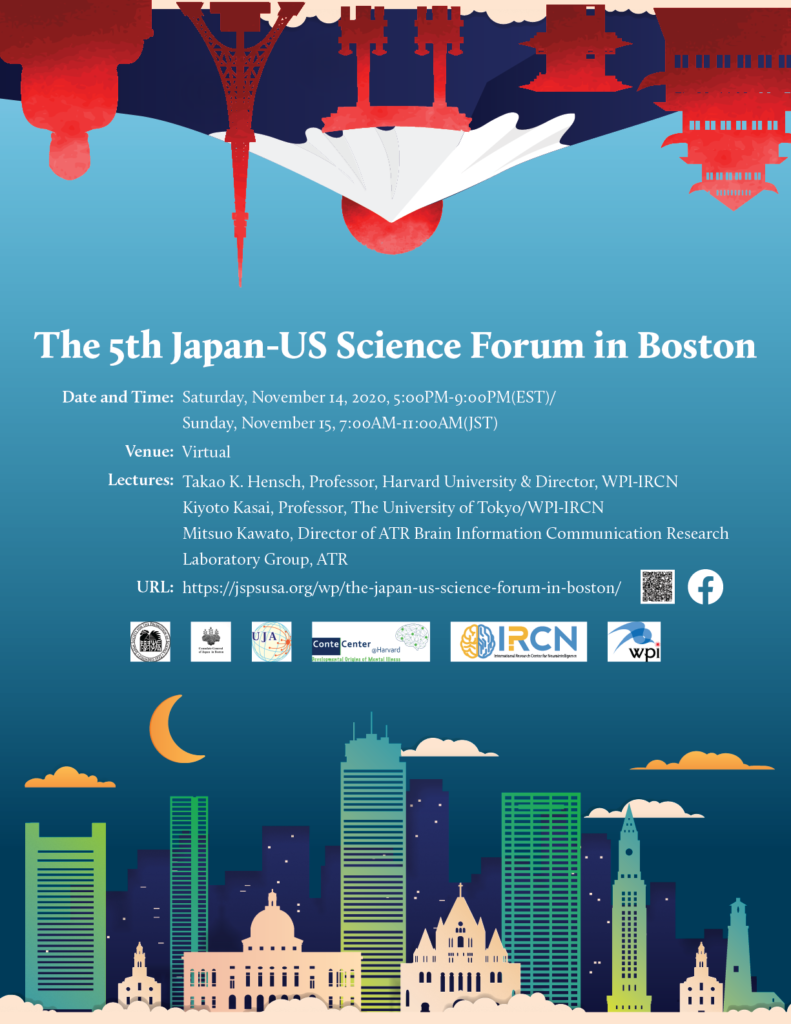 -Registration Deadline: Tuesday, November 10th, 5:00pm EST-
-Flash Talk Application and Registration Deadline: Tuesday, October 13th, 5:00pm EDT-
*Note
-The number of presentations is up to 30, basically in order of application.
-Each talk will be within three minutes, showing one-page slide. Details will be sent to presenters.
-A few presenters would be awarded.
-In the case the number of applications would be more than 30, applicants living in the US or Canada would be prioritized.
-Sponsors: JSPS Washington Office, Consulate-General of Japan in Boston, UJA-
-Co-Sponsors: Conte Center at Harvard University, WPI-IRCN, WPI-